I don't want to leave all you cat people in the dark after Wednesday's puppy post. So here's a little animation I've done, inspired by the latest in cute on YouTube. (Thanks for linking me to the video, Kate. :D)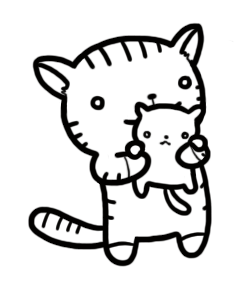 Meowza! What a hug.
In related news, I'd like to wish my favorite cat lover and best gal pal Mandy a super special, very happy birthday! In unrelated news, I've decided to put Teddy Bear Thursday on a bit of a hiatus. But don't worry, you haven't seen the last of those guys..
Enjoy the long weekend, everyone.